Research focus
The Christine Van Broeckhoven Lab aims to enhance the molecular understanding of complex neurodegenerative dementias and related disorders. The group leader has a primary research focus on neurogenetics of early-onset dementia, biosampling and biobanking, molecular diagnostics and translational research. The lab also hosts the van der Zee subgroup focused on neurogenomic studies in frontotemporal dementia populations.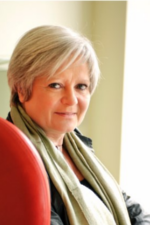 Prof. Christine Van Broeckhoven
The Van Broeckhoven Lab has a strong tradition in biobanking and biosampling. Through the coordination of national and international neurology networks, we systematically collect large cohorts of patients for advanced molecular genetic studies aimed at elucidating the genetic etiology and molecular complexity of dementia. We are especially skilled in sampling large (founder) families for genetic studies aiming at identifying novel disease genes for early-onset dementia. We put special emphasis on targeted collection of selected patient cohorts with an apparent high genetic load such as rare but well-documented families, nuclear families with at least two affected family members; (founder) pedigrees with marked variability in disease penetrance and expression; patients with extreme or distinctive endophenotypes (e.g. very early onset age or unusual combination of symptoms).
In these distinct and large patient cohorts with unique genetic heritage, we employ advanced genetic and genomic approaches including whole exome and genome sequencing, large-scale targeted re- sequencing and RNA sequencing to identify rare highly penetrant mutations, and risk and disease modifying genetic variations. Novel key genes and proteins are studied to unravel the underlying biological pathways with the objective to identify key molecular events and therapeutic targets for CNS neurodegeneration. Targets that define the onset of pathology will constitute prime markers for early diagnosis.
Our ultimate goal is to use our enhanced understanding of the neuropathological signatures of dementia and neurodegeneration to generate diagnostic and therapeutic strategies that are specifically tailored to our well-characterized family and patient cohorts. Eventually these translational findings will be able to be transmitted to the general patient population.
Team