Research focus
The Rosa Rademakers Lab is focused on the discovery and functional characterization of novel disease genes implicated in a range of neurological disorders, in particular frontotemporal lobar degeneration (FTLD) and related disorders and epilepsy.
FTLD represents 10-20% of all dementias and is clinically important because of its early onset and its dramatic impact on core human qualities, including personality, insight and verbal communication. While significant progress has been made in recent years to improve our understanding of the genetics of FTLD and the pathologies underlying this collection of neurodegenerative diseases, the etiology of the disease remains unknown in more than half of the patients.
The Rademakers Lab leads world-wide consortia to identify causal genes and genetic risk factors for two important pathological subtypes of FTLD: FTLD with TDP-43 pathology (FTLD-TDP) and FTLD with FUS pathology (FTLD-FUS). We combine genomic, transcriptomic, epigenomic and proteomic analyses on unique collections of FTLD-TDP and FTLD-FUS brain tissues to identify genes and pathways implicated in disease. We also lead consortia focused on genetic disease modifiers in FTLD patients which are known to carry mutations in GRN and C9orf72 with the goal to identify factors that could explain the large variability in symptom onset, clinical phenotype and disease penetrance in patients with these mutations.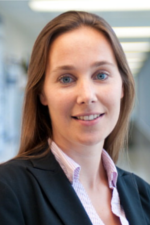 Prof. Rosa Rademakers
We also leverage our genetic findings to further the understanding of FTLD and related disorders through the generation of cell and mouse models. Most recently, we are focusing on TMEM106B, a lysosomal protein with relatively unknown function which we found to be the major modifier of disease in patients with GRN mutations. In particular, we found that individuals with a GRN mutation who also carry a protective TMEM106B haplotype have about 50% lower odds of developing disease symptoms as compared to GRN mutation carriers who do not carry this haplotype, whereas individuals with two copies of the protective TMEM106B haplotype almost never develop disease. Understanding the mechanism by which TMEM106B exerts its protection is the goal of our current research efforts. We have generated several TMEM106B mouse models, including TMEM106B CRISPR/Cas9 knock-in mice with possible protective and risk variants. Careful assessments of these mice on wild-type and GRN knock-out backgrounds is ongoing to increase our understanding of TMEM106B and its potential as a therapeutic target.
Our group also hosts the Weckhuysen subgroup focused on the identification of novel genes and genetic mechanisms implicated in epilepsy, with a special emphasis on developmental and epileptic encephalopathies. This team is at the international forefront of epilepsy genetics research as a result of the extensive expertise in the systematic collection of deeply phenotyped patient samples and important contributions to epilepsy gene discoveries. Current research efforts are focused on the identification of additional epilepsy genes and the use of iPSC derived neuronal cultures and brain organoids to provide mechanistic insights in KCNQ2-related disease.
The work in the Rademakers group may contribute to more accurate and earlier diagnosis of patients, to the development of biomarkers associated with disease phenotype and/or progression and to the identification of new targets for neurological disease therapies.
Team