Research focus
Microglia and neuroinflammation play a central role in the pathogenesis of Alzheimer's disease and other neurodegenerative disorders. Our primary focus is to examine the underlying molecular mechanisms that drive Alzheimer's disease (AD) and Frontotemporal degeneration (FTD), with special focus on inflammatory networks and particularly the contribution of microglia. We use mouse models, iPSC and cutting-edge humanised mouse systems to determine the immune component of these disorders and determine how genetics alter microglial function and contribute to the initiation and perpetuation of brain disease.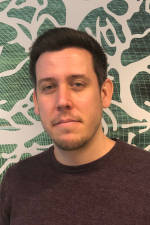 Prof. Renzo Mancuso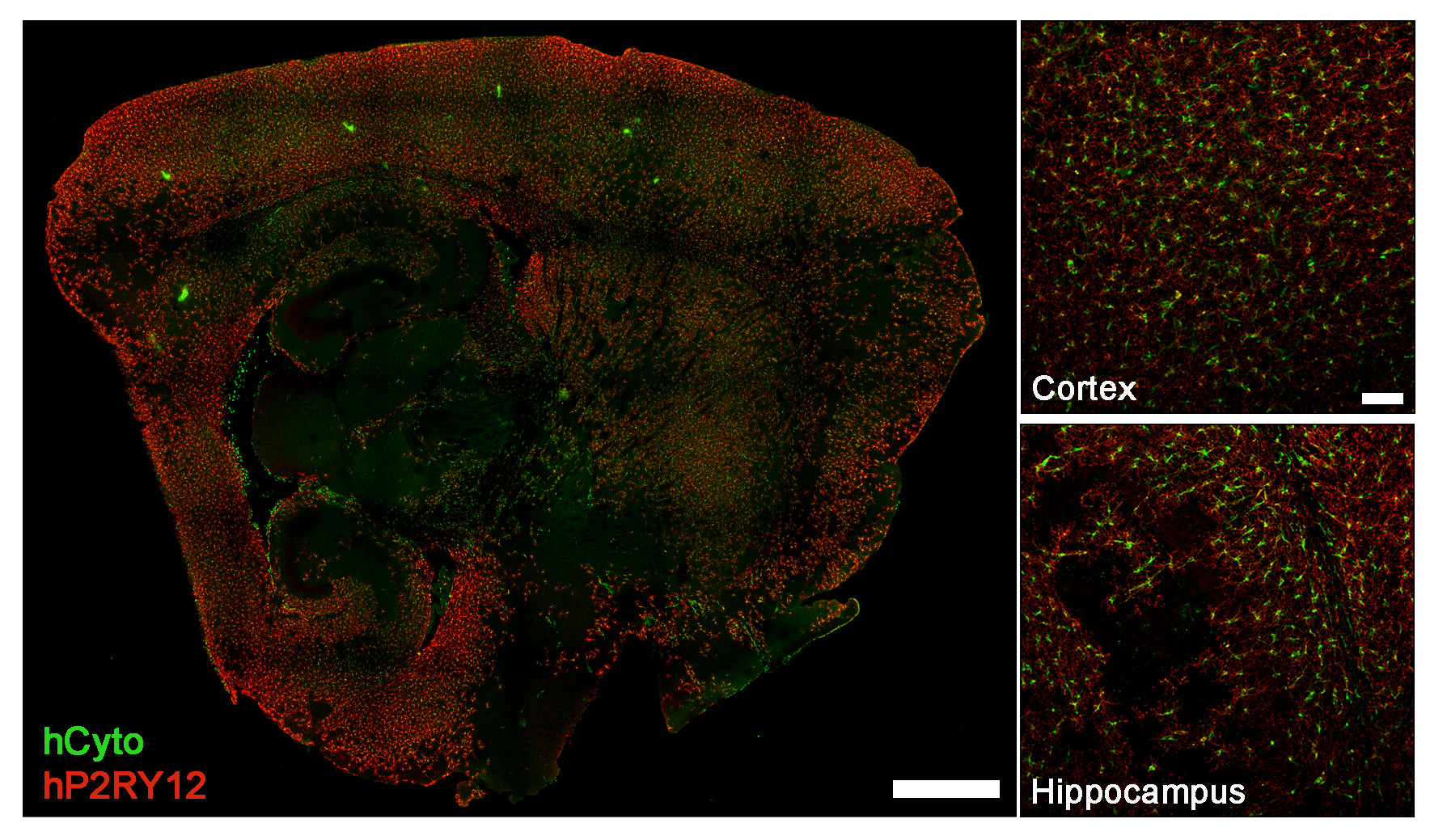 fig 1: Representative confocal images showing widespread distribution of human microglia (stained both in red and green) across multiple brain regions 4 weeks after transplantation. The left panel displays a sagittal section of the mouse brain (2mm lateral from midline), whereas and the right panels show higher magnification images of cortex and hippocampus.
Selected Publications
Mancuso R*, Van Den Daele J, Fattorelli N, Wolfs L, Balusu S, Burton O, Liston A, Sierksma A, Fourne Y, Poovathingal S, Arranz-Mendiguren A, Sala Frigerio C, Claes C, Serneels L, Theys T, Perry VH, Verfaillie C, Fiers M, De Stroopear B. Stem-cell-derived human microglia transplanted in mouse brain to study human disease. Nat Neurosci 2019, 22:2111-2116. *Corresponding author


Mancuso R*, Fryatt G, Cleal M, Obst J, Pipi E, Monzón-Sandoval J, Ribe E, Winchester L, Webber C, Nevado A, Jacobs T, Austin N, Theunis C, Grauwen K, Daniela Ruiz E, Mudher A, Vicente-Rodriguez M, Parker CA, Simmons C, Cash D, Richardson J; NIMA Consortium , Jones DNC, Lovestone S, Gómez-Nicola D, Perry VH. CSF1R inhibitor JNJ-40346527 attenuates microglial proliferation and neurodegeneration in P301S mice. Brain 2019, 142:3243-3264. *Corresponding author


Clayton EL*, Mancuso R*, Tolstrup Nielsen T, Mizielinska S, Holmes H, Powell N, Norona F, Overgaard Larsen J, Lythgoe MF, Ourselin S, Nielsen JE, Johannsen P, Holm I, Collinge J, FREjA, Oliver PL, Gomez-Nicola D, Isaacs AM. Early microglial activation precedes neuronal loss and behavioural impairment in mice with a Frontotemporal dementia-causing CHMP2B mutation. Hum Mol Gen 2017, 26:873-887. *Joint first author


Martinez-Muriana A*, Mancuso R*, Francos-Quijorna I, Olmos-Alonso A, Osta R, Perry VH, Navarro X, Gomez-Nicola D, Lopez-Vales R. CSF1R blockade slows the progression of amyotrophic lateral sclerosis by reducing microgliosis and invasion of macrophages into peripheral nerves. Sci Rep 2016, 6:256663. *Joint first author


Olmos-Alonso A, Schetterrs ST, Sri S, Askew K, Mancuso R, Vargas-Caballero M, Holscher C, Perry VH, Gomez-Nicola D. Pharmacological targeting of CSF1R inhibits microglia proliferation and prevents the progression of Alzheimer's-like pathology. Brain 2016, 139:891-907.


Team